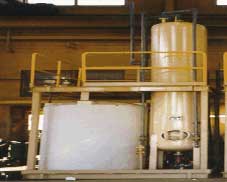 Acid washing has proven to be a very cost-effective means of maintaining the activity of activated carbon. During operation, carbon will typically become fouled due to an accumulation of precipitated mineral salts. This reduces the carbon particle area available for gold and silver adsorption. Cyanide leaching and carbon adsorption systems are typically saturated with scale forming minerals, due to the presence of lime and resultant high pH environment. Operational problems associated with scale buildup include reduced carbon loading capacity, reduced gold recovery, and poor stripping circuit performance.
Denver Mineral Engineers' acid wash systems remove mineral scale from carbon by circulating a dilute acid solution through a static bed of carbon. The acid removes the scale by dissolving it back into solution.
Inherently, during the acid wash process, small amounts of sodium cyanide are contacted by acid. This results in the formation of potentially deadly hydrogen cyanide gas. The systems are designed to safely handle the conditions, but proper operating procedures must be followed.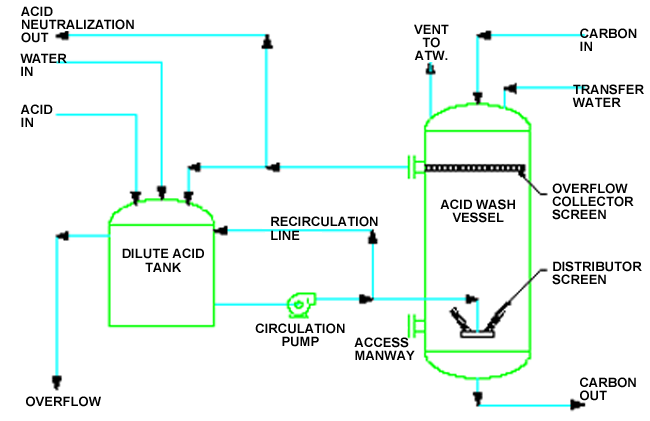 SPECIFICATIONS

FEATURES

Nitric or Hydrochloric
Acid Compatible
Completely Modular
System Ready To Operate
Manway
Hub and Lateral Feed
Distributor
Wedge Wire Collection
Header
Pipes, Valves and Fittings
Magnetic Drive Pump
Acid Resistant Paint
Caged Access Ladder
O & M Manual
ASME Code Vessel
Electrical Panel
Drum Pump
OPTIONS
Carbon Transfer Pumps
Transport Trailer
Eductors
Cone Bottom Holding Tanks
Flexble Transfer Hoses
Vent Fans
Duct Work

OPTIONS

Carbon Transfer Pumps
Transport Trailer
Eductors
Cone Bottom Holding Tanks
Flexble Transfer Hoses
Vent Fans
Duct Work

Carbon Capacity
Vessel Size
Circulation Tank
(gallons)
1/2 Ton
1 Ton
2 Ton
3 Ton
4 Ton
6 Ton
8 Ton
10 Ton
12 Ton